My Lord, Andrew Crowe, has built a Norse Longship facade.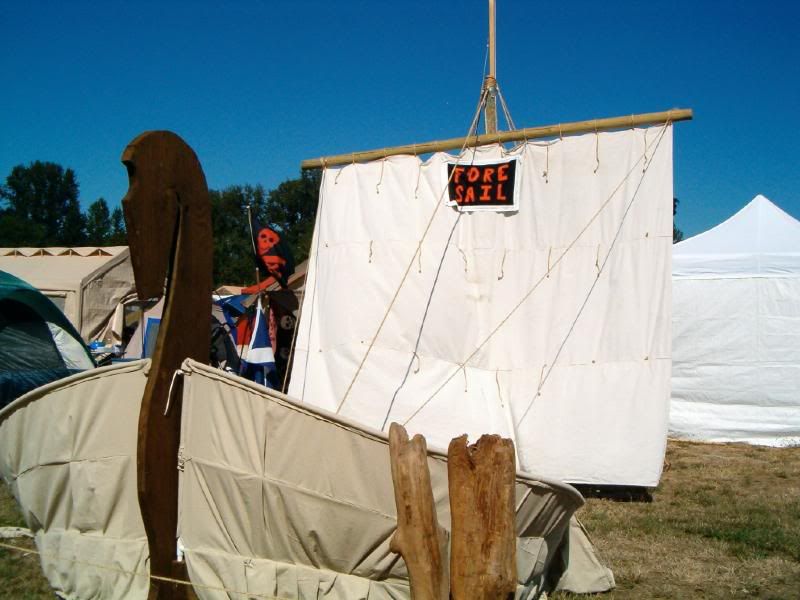 The longship is such a defining image for the Norse culture, and he has seen so few ships in local reenactments, that he took it upon himself to build one. As my Lord and I do not have Norse personas ourselves, we would like to find a new home for our ship.

The ship has been created to produce a period image and silhouette, while still being highly durable, easy to set up, and easy to break down and store. Nearly all of the sewing is by hand and all of the wood work, knot work and sewing was done by Mr. Crowe.

The ship stands 12 ft. tall and can be as long or wide as you want it to be. It needs a minimum 12ft width and 12ft length. It breaks down into a very small space: The mast and yard arm need 12ft x 1ft x 6in. The figure head needs 2in x 4ft x 7.5ft, the bow works need about 4ft x 8ft, but are somewhat flexible, and are easily hung on a wall or ceiling. Various ropes and angles take up about 2ft x 2ft x 1 ft.

For more images please see Mr. Crowe's Workshop Please view the full views of the images, so as to read the descriptions.
For information and pricing, please contact Andrew Crowe (Luke Langstraat) at lukelangstraat at gmail dot com, or me (Rose Atherton/Ruth Ames) at this livejournal.

We are located in Adiantum (Eugene, OR) and will be happy to discuss meeting with buyers at events, or simply half way. Trade and/or barter will be considered. Included in purchase will be instruction on set up and take down.

In the event that such an advertisement is not acceptable (I didn't see anything about it in the community rules) please feel free to delete, and accept my apologies.

Please distribute this information to any that you think might be interested. Many thanks.